Germany: Labour Rights and EU-Mobility Berlin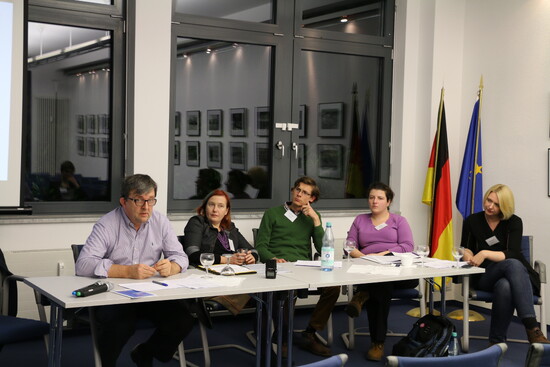 Partner: Polish Social Council, Germany
Location: Europäisches Informationszentrum, Berlin
Date: 4 and 5 December, 2015
Number of participants
: 45
Hearing II
On December 4th 2015 a hearing session titled "Labour Rights and EU-Mobility Berlin" (Arbeitsrechte EU-Mobilität Berlin) took place with experts from regional politics, administration, labor unions and migrant and welfare organizations.
Severe labour rights violations, a hazardous working environment, and discrimination are part of every-day life for EU migrant workers in Germany. The invited experts discussed how to avoid such occurrences in the future. The session opened with
a short documentary film from the meat industry
, where meat industry workers explain under which conditions they work, these include:
Extremely long working hours that exceed the allowed maximum per day
"Stolen" working hours, which are deducted from the workers' paychecks
Unfair deductions for rent, working tools, or penalties for "misbehavior" at work
"double dependence" on the employer, who provides the accommodation for workers
Immediate dismissals when workers become sick or have an accident at work
Bullying and discrimination by supervisors
The main recommendations from the hearing are:
Spread information about false self-employment among mobile workers should be shared more effectively, and counseling should be offered in different languages
The use of service contracts in the core areas of production should be restricted
Access to legal help for mobile workers has to be improved so that they can claim their rights in court without the risk of high financial costs
Documentation of working hours by the employer needs to be transparent and accessible for the workers
Support by workers councils for the workers of subcontractors should be strengthened.
A debate between a migrant worker in the construction sector and a representative of a trade union occurred, in which the worker explained the types of labour rights violation he experienced and the lack of support he received from trade unions and other institutions. The discussion showed that disagreements persist between workers and trade unions. Trade unions would like the workers to join them as soon as they enter the new country where they begin work, which is not always beneficial or possible for seasonal workers or those who do not speak the local language. The member of the Berlin parliament argued that trade unions should also help workers who are not members to obtain their rights.
Other participants include Mr. Winter who introduced the project "Service center for workers mobility" (Servicestelle Arbeitnehmerfreizügigkeit) in Hamburg, which is funded by the European Social Fond and the city of Hamburg. It aims to help workers in case of rights' violations by providing them with contacts to their relevant embassies, unions, lawyers, media, migrant communities, and job agencies.
Mr. Bogoeski from the DGB-project Faire Mobilität (Fair Mobility), presented a statement about the Polish Social Council's final report. He argued that mobile workers must have access to advice from counseling centers that cover the most common languages of origin. A successful example of this type of help is a new brochure produced by one of trade unions, titled "Knowledge protects".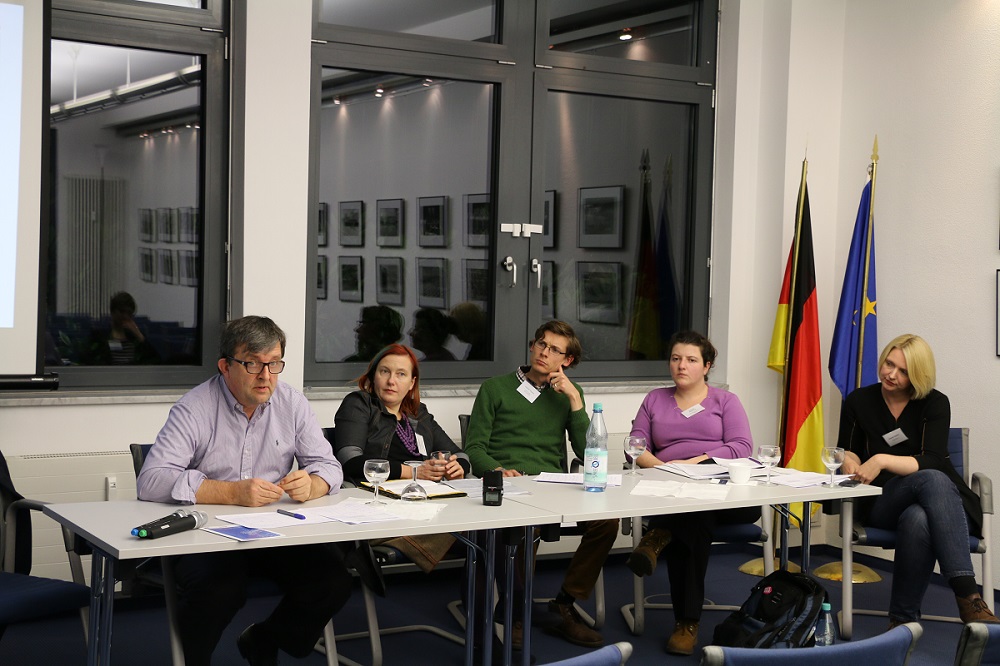 Round Table
Grave violations of labour rights, dangerous working conditions and discrimination are part of the everyday experience of foreign EU citizens working in Germany, Czech Republic, Romania and Great Britain. This was the consensus reached by the participants of the roundtable organized by the Polish Social Council. The discussion panel included Roger Casale from the New Europeans in London, Jochen Empen from the DGB-project Faire Mobilität (Fair Mobility), Adriana Qubaiova from the Multicultural Center Prague, and Barbara Surdykowska from the independent self-governing trade union "Solidarity" (Niezależny Samorządny Związek Zawodowy "Solidarność").
The participants discussed possible solutions for problems facing migrant workers across Europe. One suggestion was to form a Europe-wide trade union bringing together the trade unions in individual countries. Another was to establish a system of European-wide trade union membership, so that workers do not have to register in a union in each country they work in, but have access to union services in these countries.
Summary of Hearing II Procedures from the other partners countries are available here.
---


The information on this web page reflects only the authors' views. The Education, audiovisual and Culture Executive Agency and the European Commission are neither responsible nor liable for any use that may be made of the information contained on this web page.
1. 8. 16
Zdroj: migrationonline.cz