Afghanistan – the Graveyard of Empires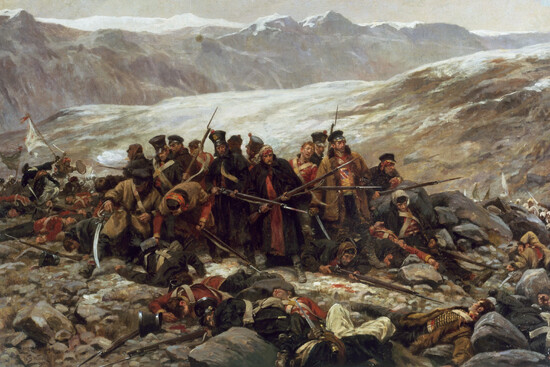 Since the 19th century, Afghanistan has been called 'The Graveyard of Empires'. Multiple superpowers – the British Empire, the Soviet Union, and the United States – have successfully occupied the country in the last two hundred years, but they have always been afterwards expelled by the Afghans. The United States' 20-year-long occupation was the longest of these modern examples, but Afghanistan has throughout its longer history also endured invasions from Persians, Greeks, Mongols, and many more. Explanations are offered for why Afghanistan defeats great states again and again: its landscape and climate is inhospitable, its people tribal, it is surrounded by countries sympathetic to its people and hostile to foreign invaders. This produces a view of Afghanistan as a place that can never really be conquered. And yet foreign powers try, again and again.
The Anglo-Afghan Wars of the 19th early 20th centuries were part of 'The Great Game', a clash between Russia and Britain as they wrestled for power over Central Asia. It was quite a lot like the Cold War. As the Russian Empire advanced south through Asia, the British relied on Afghanistan to be the buffer state protecting its colonies in India. The British fought to keep Afghanistan out of Russian influence. Historians now argue that the British overestimated Russia's desire to expand its borders towards India, meaning that the Afghan Wars were a costly British overreaction. Russia would finally invade Afghanistan in late 1979 to support the pro-Soviet government, which prompted US and Saudi funding for the Mujahideen guerillas. As the Soviet Union withdrew from Afghanistan in 1989, it left behind a country in turmoil as warlords that grew out of the US-backed insurgency fought for power. Osama Bin Laden himself was one of the foreign fighters who came to Afghanistan to fight for the Mujahideen. The Taliban emerged to seize control of Afghanistan in 1996, as a direct consequence of the United States' desire to take Afghanistan out of Soviet influence. The radical Islamist policies of the Taliban were also a legacy of America. To oppose the Soviet Union's socialist politics, the US encouraged the development of hard-line, militant Islam as a motivator for Afghans to fight the Russians. The attacks on September 11, and the subsequent invasion and occupation of Afghanistan, are the consequences of America's own Cold War policies against Russia.
International discussion of Afghanistan focuses on its history of expelling invaders, as various militaries, media pundits and political think tanks try to figure out how Afghanistan should be controlled, as though the country is a wild animal that needs taming. However, this view of Afghanistan as a problem to solve is much less important than the question of why foreigners have been so driven to try to bring it under control. Since the term 'Graveyard of Empires' was first coined, we can say that each foreign invasion of Afghanistan was launched to fix problems created by the previous invasion. As the Taliban solidifies its reign over Afghanistan once more and see the news reports of its repressive, violent policies, it is the legacy of a series of failed Western interventions into the Graveyard of Empires. It seems inevitable that in a few years some other superpower will try to invade to remove the Taliban one more time – and then leave an even bigger mess behind that will provoke yet another future invasion. And so history will repeat itself, until and unless Afghanistan is given the space to find its own path.
Cover photo: By William Barnes Wollen - http://www.britishbattles.com/first-afghan-war/kabul-gandamak/last-stand.jpg, Public Domain, https://commons.wikimedia.org/w/index.php?curid=4324548
Zoheb Mashiur
Researcher of race, empire, and the postcolonial legacies of South Asia. His research is on the reproduction of martial race discourses through the literary representations of Indian soldiers on the Western Front of World War I. Born in Dhaka, Bangladesh. He migrated to Europe in 2017 to study for my Master of Arts in International Migration (with International Conflict & Security), which completed in 2019. He hold a Bachelor of Social Science in Economics from BRAC University in Dhaka and was employed as an editor of youth literature by the Bangladeshi English language newspaper, The Daily Star. He has a keen interest in literature and have contributed to short fiction and poetry anthologies.
26. 10. 21
Zdroj: migrationonline.cz