EU Fundamental Rights Agency's annual report for 2014 focuses on integration and intercultural education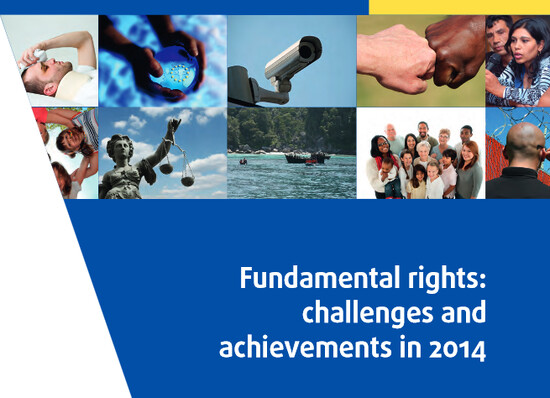 The
2014 annual report of the European Union's Agency for Fundamental Rights (PDF)
, released in June, examines fundamental rights-related developments in equality and non-discrimination; racism, xenophobia and related intolerance; Roma integration; asylum, borders, immigration and integration; information society, privacy and data protection; the rights of the child; access to justice including rights of crime victims; and the EU Charter of Fundamental Rights and its use by Member States.
It has a particularly strong focus on integration and intercultural education, summarised as follows:
Integration policies normally target employment and language learning, but rarely address broader issues of social inclusion, community cohesion, respect for human rights or political participation. The January 2015 attacks in Paris emphasise the need for such an approach, and the relevance of social inclusion policies that target the wider community (migrants, their descendants and nationals). Most Member States have social inclusion policies and measures that target not just migrants but also the general population, particularly training for public administration and media campaigns.
EU Member States need to address more effectively the challenges of social inclusion for migrants and their descendants, and confront xenophobia, intolerance and prejudice. Existing training programmes, including those targeting the general population, should be systematically monitored to assess their impact on the ground. Efforts to promote social inclusion as a process of mutual accommodation by all – migrants, their descendants and the general population – and based on universal human rights should be further supported.
Most Member States' primary or secondary education teaches about different cultures in society. Eight Member States, however, do not include such elements in the national curriculum, and one Member State addresses diversity in extracurricular activities. Active political and social participation of migrants is also essential for successful integration. This is particularly relevant for women and for young people who are descendants of migrants. As education modules on diversity in society are integrated in school curricula in most Member States, it shows the efforts made to nurture inclusive, participatory and cohesive societies with equal opportunities for all.
EU Member States should ensure that educational systems promote respect for diversity and universal human rights. Education modules on diversity, as exist in many Member States, should be introduced throughout the EU as a core component of education systems.
20. 8. 15
Zdroj: migrationonline.cz