Oslava Mezinárodního dne migrantů 2017
K příležitosti dne migrantů pořádá Konsorcium nevládních organizací pracujících s migranty večer plný hudby, filmů, exotického jídla a mnoho dalšího.
Přijdťe v sobotu 16. prosince v 17:00 do Studio Alta v pražských Holešovicích.
- V rámci akce "Porozumění prochází žaludkem", se budete moci seznámit s lidmi, kteří se přestěhovali do Česka z různých zemí, ochutnat jejich oblíbená jídla a dozvědět o tom, jak sem přišli, jak se jim tady žije, co nejraději vaří a s jak se jí u nich doma.
- Ve výtvarném workshopu organizovaném InBáze, z. s. si můžete vyrobit krásné vánoční dekorace spolu s umělci z Ruska
- Zveme vás také na zajímavé dokumentární filmy, které budeme promítat ve spolupráci s Iom Praha v rámci světového filmového festivalu Global Migration Film Festival.
- A nakonec si poslechnete a zatančíte na výbornou, multi-národní balkánskou kapelu Rajvosa Prag Band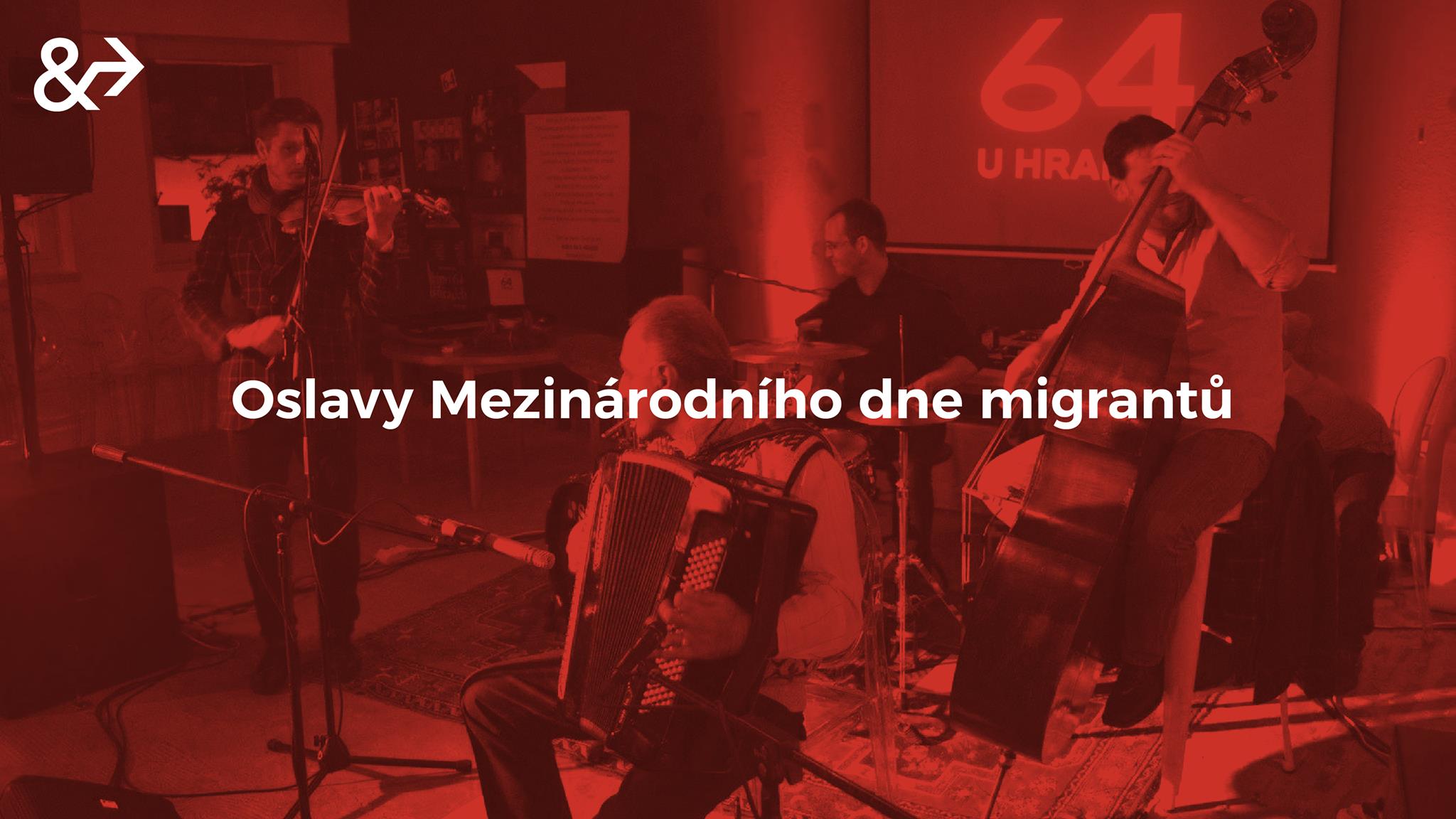 ...a hlavně, strávíte večer se skvělými lidmi. Přijďte s námi oslavit Mezinárodní den migrantů, adventní čas a nadcházející konec roku 2017!

***
On the occasion of the 2017 International Migrants Day, the Consortium of NGOs working with migrants will host an evening full of music, films and exotic foods. You can meet people, who moved to the Czech Republic from different countries, taste their favourite meals and learn about how they got here, how they live here and what they like to cook. There will be an arts and crafts workshop, organized with InBáze, z. s., and a screening of documentaries about migration, thanks to Iom Praha. The evening will finish of with great music by the Rajvosa Prag Band.
| | |
| --- | --- |
| date: | 16.12.2017 17:00 |
| place: | Studio Alta, Praha 7 |
| organised by: | Konsorcium nevládních organizací pracujících s migranty |
Mon
Tue
Wen
Thu
Fri
Sat
Sun

1

2

3
4
5
6
7
8
9

10

11

12

13

14

15

16

17

18

19

20
21
22
23
24
25
26
27
28
29
30
31