LŠM 2017: Patří uprchlíci do muzea?
Multikulturní centrum Praha společně s Friedriech-Ebert Stiftung a Masarykovou demokratickou akademií srdečně zvou na debatu "Patří uprchlíci do muzeí?"
Téma uprchlictví není v dějinách nové. Přesto se jeho současné, ba ani minulé podoby nedostávají do českých muzeí, ačkoli v zahraničí je to běžné. Musí být téma již mrtvé, aby mělo právo vstoupit na muzejní půdu? Není na čase tento přístup změnit? Je vůbec migrace – třeba ta staršího data – součástí našeho národního příběhu, který si předáváme z generace na generaci? Nebo jsme toto téma poněkud vytěsnili a vypudili ho na okraj našeho historického narativu? O tom v rámci cyklu Lidová škola migrace 2017 tentokrát dikutují:

Simone Eick, ředitelka Auswandererhaus Bremerhaven
Blanka Mouralová, politoložka
Michal Stehlík, historik
Jitka Gelnarová, historička

Celý večer moderuje sociolog Tomáš Samek.
Diskuze je ZDARMA a bude simultánně tlumočena.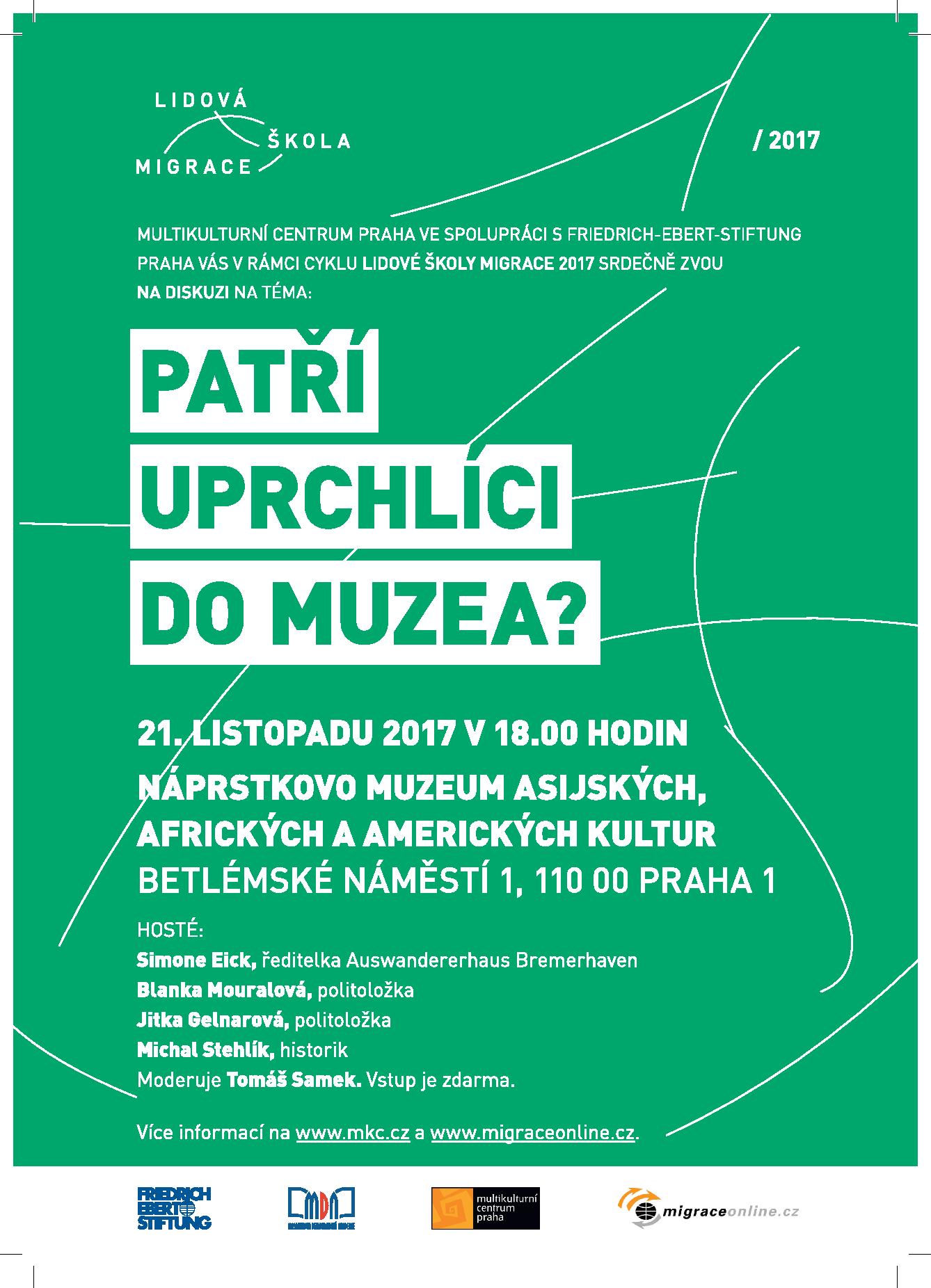 Lidovou školu migrace pořádá Multikulturní centrum Praha ve spolupráci s Friedrich Ebert Stiftung.
To the project:Lidová škola migrace
| | |
| --- | --- |
| date: | 21.11.2017 18:00 - 20:00 |
| place: | Náprstkovo muzem, Betlémské náměstí 1 |
| organised by: | MKC Praha, FES Praha, MDA |
| for download: | Plakát ke stažení |
There are no events for this month.